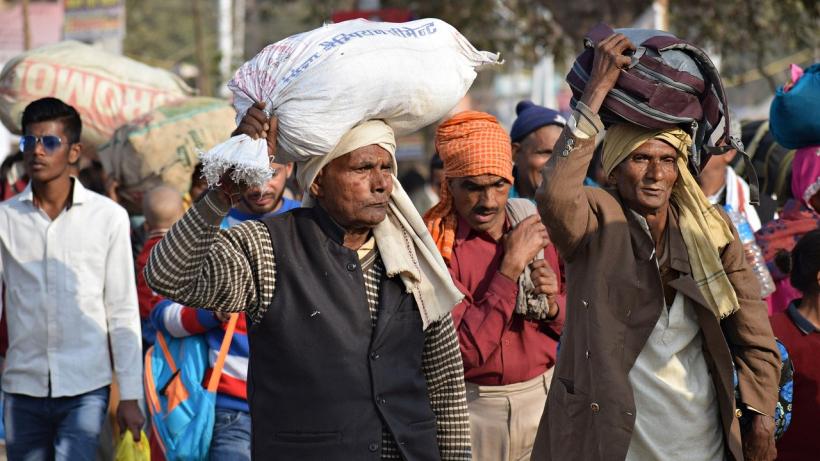 Event highlights: The impact of COVID-19 on informal and migrant workers in India
In IGC's third online public event on addressing the economic challenges of COVID-19 in developing countries, we turn to India, where a nationwide lockdown amidst the COVID-19 pandemic has critically dislocated its migrant population.
On 24 March 2020, the central government of India imposed a lockdown and closed businesses when cases of COVID-19 in the country numbered 500. Whilst the move was initially praised as 'tough and timely', the lockdown was announced with barely four hours notice. Relief packages, essentially top-ups of food and cash transfers on existing programmes, were announced a few days later and were widely criticised as not being enough to protect India's most vulnerable population. Local authorities also followed with measures such as creating strict containment zones to close off hotspots, leaving millions of migrant workers stranded. The country's rapid response slowed down the spread of the disease, but also raised concerns about exacerbating existing inequalities and vulnerabilities.
As India has started to relax some lockdown restrictions, IGC convened a high-level panel to discuss the impact of COVID-19 and subsequent containment measures on the most vulnerable groups in India. The panel explored social policy measures and employment opportunities that can protect informal and migrant workers from hunger and extreme poverty. The event, moderated by Shahid Vaziralli, Head of Research at the IGC, convened a distinguished panel which included Farzana Afridi, Associate Professor in the Economics and Planning Unit at the Indian Statistical Institute in Delhi and Lead Academic for IGC India, and Purnima Menon, a senior research fellow at the International Food Policy Research Institute based in New Delhi. The panel was also meant to include Jean Dreze, honorary Professor at the Delhi School of Economics, and Visiting Professor at the Department of Economics, Ranchi University, but he was unfortunately unable to connect during the event. However, his interview with Shahid Vaziralli can be found here.
Key questions explored
What information do we now have on those that are most affected by the crisis in India?
As part of the newly announced stimulus package, what should be the balance between cash versus in-kind transfers and what is the role of the state in implementing social protection?
What can India learn from within India?
A new stimulus package
On 12 May 2020, the Indian government announced a USD 260 billion economic stimulus package. Although more details have now emerged on how the package will be allocated, there was initially very little clarity on what this included at the time of the IGC event, particularly how much would be dedicated to social protection.
Preparation, anticipatory analysis, and continuous learning
Reflecting on the first two months of the lockdown, Shahid Vaziralli began the discussion by asking the panellists what India could have done differently in response to the crisis. Both highlighted the need for better preparation to identify the most vulnerable and set up measures that would protect them from a severe loss of livelihoods. Discussing a recent phone survey on how the COVID-19 crisis has affected the urban poor in Delhi, Farzana noted that up to 90% of those surveyed have not worked a single day during the lockdown, as the majority are self-employed or casual day labourers. Moreover, the proportion reporting not receiving their full salary in March 2020 has been increasing as lockdown progresses.
The initial perception that the lockdown is a transitory shock and that any loss of work is temporary, has now shifted to this being "permanent loss of income". The mental health effects of these income shocks are also severe and can have potential repercussions on wellbeing and productivity when India moves towards restarting the economy. Both cash and in-kind transfers are therefore crucial for supporting the most vulnerable.
Purnima emphasised the importance of anticipatory analysis and missed opportunities for learning. India had time to learn from China, particularly on how to implement a lockdown with a huge national population. She pointed to a study led by researchers at Yale and The Chinese University of Hong Kong that used anonymised mobile phone data to analyse the movements of nearly 11.5 million people moving out of Wuhan in January 2020 and found that they could accurately predict the spread of infections in China up to two weeks in advance.
Asymptomatic transmission and lack of data means we do not know how many migrants in India were infected. Whilst it is difficult to prepare for an emergency in an emergency, India was, and still is, able to learn from within India. States such as Kerala have been praised for how they have flattened the curve, though this can largely be explained by existing structures such as a strong healthcare system and social safety nets. Purnima highlighted the need for a systematic learning agenda that draws on key insights for states within India, which will also be more transmissible in other South Asian contexts. Given that the current situation is so dynamic, both panellists emphasised the need to consolidate data collection efforts across the research community so that we are regularly engaging with updated data to effectively inform policy.
Rebuilding trust with migrants: Social protection is key
An IGC policy brief on social protection by Shahid Vaziralli notes that despite the numerous large and existing social protection programmes, India has only committed 1% of its GDP (USD 22 billion) to COVID-19 relief efforts. Both panellists emphasised that comprehensive social protection is the key to rebuilding trust with migrants and encouraging them to return to urban centres. Effective state-level use of social safety net programmes linked to centrally sponsored schemes like the Mahatma Gandhi National Rural Employment Guarantee Act (MGNREGA) will be crucial. Farzana pointed to Rajasthan as a state that has done a tremendous job in providing work to those affected by the crisis. Purnima highlighted the need to ensure protections are also in place for the urban poor that are not migrating back to rural villages.
Farzana further emphasised the importance of ensuring both cash and in-kind transfers, particularly as the price of essentials rise during the crisis due to supply chain restrictions. Current minimum income schemes that provide INR 500 are nowhere near sufficient to meet the heavy decline in incomes, particularly when average earnings of nearly INR 400 per day are being forgone by 90% of the population. Although the government has limited fiscal space, panellists suggested the government must bear a higher fiscal burden today so India can grow tomorrow.
Tackling misinformation: "Shatter the perception that this is an urban disease"
Farzana's statement highlights the need for coherent, comprehensive, and consistent messaging from the government. Over time, the phone survey on Delhi's urban poor saw a decline in adherence to precautionary measures such as hand washing and avoiding social gatherings. Clear messaging, alongside assurances that living conditions will be safe and clean when migrants return, are also needed to rebuild trust.
The panel also discussed the role of social media platforms such as WhatsApp in spreading misinformation about the origins and health implications of COVID-19. Purnima noted that the public health community in India are working hard on effective communication strategies, but there are challenges due to the uncertainty around the clinical manifestation of the virus. She highlighted work in East Asia and the Pacific by UNICEF who engaged in "social listening" to understand the public's perception and concerns around COVID-19 and used this to tailor communication campaigns.
India must use all the tools in its arsenal to protect the most vulnerable
The COVID-19 crisis has amplified the notion that we are all affected, but not affected equally. India is in a place where it can reflect and learn from the last two months and adapt its containment and social policy measures to effectively address the exacerbated inequalities. At a time of an unprecedented health and economic crisis, India must mobilise all policy tools at its disposal to ensure it protects the most vulnerable.
Disclaimer: The views expressed in this post are those of the authors based on their experience and on prior research and do not necessarily reflect the views of the IGC.