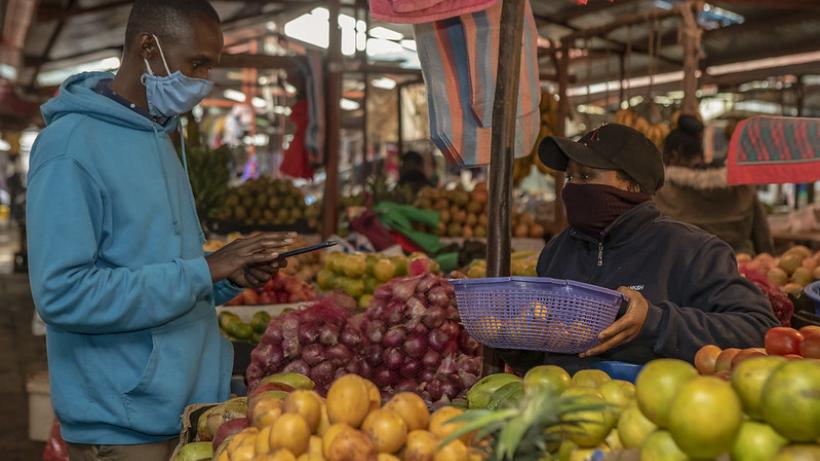 Rwanda's response to COVID-19 and future challenges
Containment efforts have been effective; however, an impending global recession means the economic impacts of the pandemic will continue to be felt.
In Rwanda, as of 19 May 2020, there have been 297 cases of COVID-19, of which 94 are active. There have been no deaths. These statistics are remarkable for the low number of cases and the fact that there have been no deaths so far. The African continent is still at an early stage in the crisis, however, Rwanda's early actions have meant that an increase in cases has slowed, allowing for the initial lockdown to be eased already.
A timeline of Rwanda's policy response
Rwanda's public health response to COVID-19 has been robust and rapid, and has been backed by President Kagame. Beginning in January, medical staff were already stationed at Kigali International Airport and land borders to screen for high temperatures.
In early March a taskforce was assembled and guidelines were issued on 6 March on social distancing and handwashing, and hand sanitiser was placed outside all major public buildings and shopping centres. Testing began well before the first COVID-19 case, which was verified on 14 March. Once cases emerged, systematic tracing began, with assistance from security organisations.
On 20 March, the government instituted a nationwide lockdown and all non-essential transport outside homes was banned. The Government's priority has been containment as Rwanda's healthcare system is underprepared for a large number of serious cases as the country has very few intensive care unit (ICU) beds.
A range of social distancing and hygiene measures were set up for the essential parts of the economy that were still permitted to function, such as hand-washing equipment at agricultural collection centres. During the lockdown, all non-essential labour and business activities, mostly urban in nature, were stopped.
By 30 April, a Cabinet decision loosened the lockdown, mandating the wearing of masks outside and instituting an 8pm to 5am curfew, while allowing free movement within each province during the day. Manufacturing and construction sectors were re-opened, and hotels and restaurants were allowed to open until 7pm. Schools and places of worship remain closed at the time of writing.
On 30 April, the Cabinet also approved a "Social Economic Recovery plan to support activities affected by COVID-19". On 5 April, the Office of the Prime Minister announced that senior government officials had agreed to forfeit their April salary as a contribution to funds needed to fight COVID-19.
Another Cabinet decision on 18 May sustained the lockdown to the end of the month in similar form, but announced that both inter-province travel and normal moto taxi service will resume on 1 June, marking the end of ten weeks of lockdown.
Rwanda's economic response
Supporting workers and vulnerable people
The Government is providing food relief to at least 20,000 hard-hit households living in Kigali, followed by other urban centres. It also instituted zero charges on mobile money transfers and lifted the maximum transactions possible using this means of payment. Other social protection measures may be in the pipeline as part of the Economic Recovery Plan.
The National Bank of Rwanda (BNR) instructed commercial banks to ease loan repayment conditions to borrowers, introduced an Extended Loan Facility to banks of RWF 50 billion, and instituted other measures aimed at commercial banks.
The International Monetary Fund (IMF) approved a credit of USD 109.4 million to Rwanda to cushion the impact of lost foreign earnings from trade and tourism, and bolster foreign exchange reserves.
On 4 April, the Ministry of Finance reportedly began working on a fund to support access to capital for small and medium enterprises (SMEs) and facilitate recovery of the economy, and on 12 May the New Times reported the imminent launch of a USD 200 million fund. The Rwanda Revenue Authority also extended the deadline for businesses to file and pay income taxes from the end of March to the end of April, and relaxed other administrative requirements.
Sanctioning businesses for malpractice
The Government has worked to enforce measures to clamp down on exploitative business practices, such as price gouging, using unapproved weighing scales, and issuing illegal or no invoices. Many businesses have been fined for not adhering to these laws at the time of writing.
Economic challenges posed by COVID-19
The COVID-19 crisis has demonstrated the effectiveness of the Government of Rwanda in mobilising the population in a decisive and effective public health response. Even so, a number of very serious economic challenges lie ahead as the global economy braces itself for a recession. Consequently, Rwanda faces intensifying demand and supply-side shocks both in the domestic and external sectors.
Services, industry, and loans
A National Bank of Rwanda report from 30 April states that there has been a significant slowdown in the services and industry sectors, and that demand for loans is down 10.6% in the first quarter of 2020.
Non-essential economic activity
The lockdown halted swathes of economic activity classed as non-essential: This included moto taxis; construction; other types of casual labour; tourism; bars; hotels; the meetings, incentives, conferences and exhibitions (MICE) sector; and any other sectors involving face-to-face communication.
Foreign and informal trade
The shutdown in the global tourist industry, plummeting demand in mineral markets, and a slowdown in commodity markets acted in concert with domestic policy to paralyse economic activity. Much economic activity is informal, so workers and households relying on these sectors have little to no savings to fall back on. The loss of resources will hit children and the elderly hardest.
Employment and operations
Continuing solvency of many businesses is a concern, as is the need to maintain the connection between businesses, workers, and customers. However, keeping workers on and maintaining essential operating costs is important. The crisis will undoubtedly increase private indebtedness.
Disruptions to trade and critical supply chain networks are already taking effect: Rwanda's imports from China decreased 23% from January to February and are highly likely to have decreased further (TradeMark East Africa unpublished report, 2020). This will affect Rwandan industry, which will have reduced critical inputs. This will also affect exports as over 70% of Rwandan exporters are themselves importers.
Key challenges going forward
Rwanda urgently needs both scaling up and expanding of support to include digital cash-based social protection measures. According to the IMF, the lockdown and deepening global recession has created an "urgent balance of payments need" in Rwanda. The national government faces significant losses in expected VAT and income tax revenue, while local government also faces a loss in revenue from various fees.
Congestion and sanitation in unplanned settlements
COVID-19 will continue to be a predominantly Kigali-based, or at least urban, phenomenon in Rwanda. Seventy-seven percent of Kigali households live in unplanned settlements that have narrow access pathways. 10% of houses in these settlements are seriously overcrowded. A quarter of Kigali households use shared toilets and only have access to shared, unimproved water sources. Even the improved water sources, such as public standpipes that serve 41% of Kigali households, are shared. This renders frequent handwashing a challenge. Queues for public or shared facilities may also pose challenges for social distancing.
Perhaps the greatest challenge the government faces is the need for enormous public resources to prevent COVID-19-related death, minimise rupturing of the economic fabric, and protect the vulnerable. Ongoing tracing and testing efforts are thus vital to isolate those with the virus, to stop the disease spreading.
Disclaimer: The views expressed in this post are those of the authors based on their experience and on prior research and do not necessarily reflect the views of the IGC.