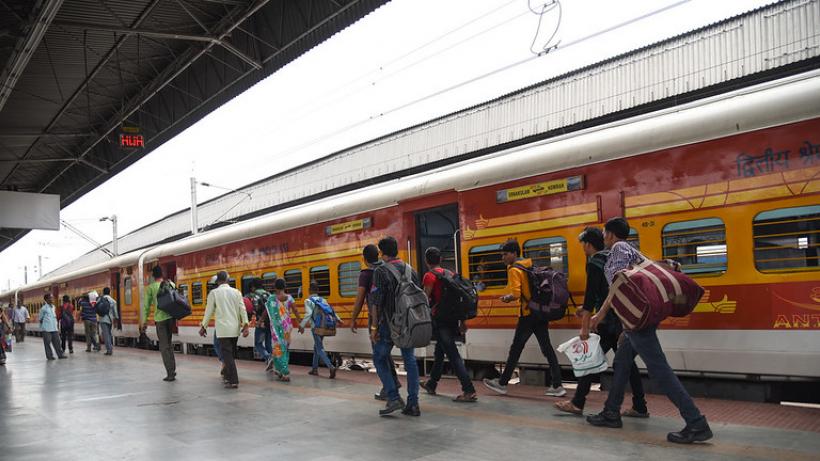 Ideas Matter: How migrating to cities can ease seasonal poverty
Migrating to cities can help rural families escape downturns in the agricultural cycle. But for urban migration to be an effective tool for poverty alleviation, the costs of getting to cities, finding a job, and leaving home behind, need to be as low as possible.
Lean seasons have been common throughout farming history. In The Discovery of France, Graham Robb describes how 19th century farmers would hibernate during the winter months, conserving energy and food supplies until agricultural activity picked up again in the spring.[1] As urbanisation progressed, and transport links improved, these farmers ended their idle months and started to work in the factories and markets of neighbouring cities.
Fast-forward to today, and lean seasons are still emblematic of many farming communities in the developing world. Like clockwork, between the times for planting and harvest, crop prices shoot up, competition for local farm work escalates, and many families go hungry.
Migrating to cities can offer a haven for households looking to escape seasonal poverty. Yet, time and time again, we see that many families choose not to send temporary migrants. While this decision may seem confusing, economic research has come a long way in understanding these choices.
Migrants need support to get to cities
A 2014 study funded by the IGC and co-authored by Gharad Bryan (London School of Economics), Shyamal Chowdhury (University of Sydney), and Mushfiq Mobarak (Yale University), showed that transport costs are a principal determinant of whether poor households take up temporary migration.[2]
The researchers used randomised controlled trials to subsidise the costs of a round-trip journey to neighbouring cities. They found that in villages where subsidies were not offered, roughly 34% of households would send at least one migrant to the city during the lean season. When households were offered cash transfers of around USD12.50 conditional on migration, 74% sent a migrant. Household that sent migrants increased their overall food consumption by roughly 550 – 700 calories per person per day. Three years later, even after the programme had stopped, households that received a grant were  8-10 percentage points more likely to continue sending out a temporary migrant.
Migrants need help to find urban jobs
Another recent study by Simon Franklin of Queen Mary University considers how search costs affect the job opportunities of individuals once they have made it to the city.[3] Those who can access improved transport links are shown to increase their job search intensity, and are therefore more likely to find good, permanent employment in cities. The evidence suggests that cash constraints cause young people who live far away from urban jobs to give up too early.
Other research by Nick Tsivanidis of the University of Berkeley, California, shows that when transit systems improve in cities; for example, through the roll-out of Bus Rapid Transit systems, in-migration and employment increase dramatically, leading to substantial welfare and productivity gains.[4] Transport links both towards and within cities are therefore likely to have strong influence on the likelihood of migrants finding work and their decisions to leave home.
Migrants need security to leave their home
For many rural farming communities, rights to land are allocated by the judgement of village elders. In such situations, research shows that access to one's land holdings becomes conditional on demonstrating regular and productive use of it, with the implicit recognition that any household neglecting their land or migrating to other areas faces a considerable risk of losing their rights.
Evidence from Mexico, shows that a national land titling programme between 1993 and 2006 encouraged large-scale migration to cities because rights to rural land was no longer use-based.[5] Similarly, strengthening property titles in urban Peru has been shown to free household members from having to stand guard over their homes, thereby enabling them to take up job opportunities in cities.[6]
Research and policy implications
New research has helped shed light on the risks at home and at destination when it comes to migration. A costly trip to the city might result in no work materialising, sending a migrant home empty-handed, while in the meantime, leaving their family at risk of poverty and crime in their absence. Research shows that lowering the information and financial barriers to rural-urban migration is critical for tackling seasonal hunger. Further attention could also be paid to the inherent risks to land and livelihood that farmers face when they make the journey to cities.
This blog is part of the IGC's Ideas Matter campaign to celebrate the launch of the Little Book of Growth Ideas.
Endnotes
[1] Robb, G (2016), The Discovery of France: Picador Classic (Vol. 41). Pan Macmillan.
[2] Bryan, G, S Chowdhury and A M Mobarak (2014), "Underinvestment in a profitable technology: The case of seasonal migration in Bangladesh", Econometrica, 82(5), 1671-1748.
[3] Franklin, S (2018), "Location, search costs and youth unemployment: experimental evidence from transport subsidies", The Economic Journal, 128(614), 2353-2379.
[4] Tsivanidis, N (2019), Evaluating the Impact of Urban Transit Infrastructure: Evidence from Bogotá's TransMilenio. UC Berkeley, memo.
[5] De Janvry, A, K Emerick, M  Gonzalez-Navarro and E Sadoulet (2015), "Delinking land rights from land use: Certification and migration in Mexico", American Economic Review, 105(10), 3125-49.
[6] Field, E (2007), "Entitled to work: Urban property rights and labour supply in Peru", The Quarterly Journal of Economics, 122(4), 1561-1602.