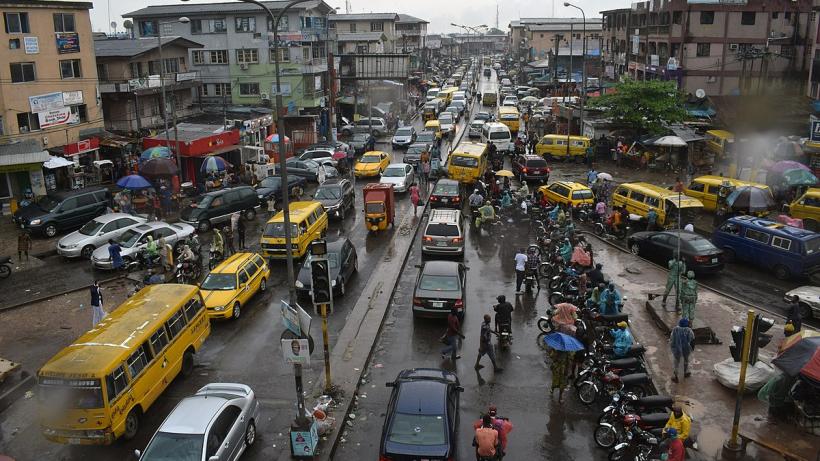 Learning from Lagos
How a "lite" rapid transit system in the Nigerian city transformed commuting.
In many emerging cities, public transit is informal and unregulated. Considerable quality of life, environmental, and health consequences result from this.
At an individual level, many people are unable to afford public transit and must walk to work, which reduces their career opportunities, inhibiting their ability to best match their skills to the needs of firms, and constricting local economic growth. Those who commute via public transit often spend a large percentage of their income traveling locally and are subject to unsafe conditions and heavy traffic that threaten their health. At a broader, city-wide level, public transit combined with inefficient private vehicle use results in traffic congestion. Cities with poor transit systems take a financial hit. In Kampala, Uganda, for example, the city loses up to 4 percent of its economic activity due to congestion. This congestion also drives outdoor air pollution, a silent killer attributable to 3.2 million deaths per year, the vast majority occurring in low-and-middle-income countries.
Cities and their policy decisionmakers can change this. In an International Growth Centre case study, researchers found Lagos, Nigeria's, transport reforms, particularly bus rapid transit, from 2009-2019 reduced many of these environmental and human costs. Policymakers looking to revitalize infrastructure or make public investment during and post-COVID-19 pandemic can learn from Lagos' reforms—especially if they start with incremental improvements and making parallel infrastructure investments.
Lagos "Lite" Lessons
Until ten years ago, Lagos lacked a formalized mass public transit system. Individual commuters from residential areas in the north and west could spend over two hours in traffic commuting to work in the city center every day; and the average Lagosian spent around 40 percent of their income on transit. For the poorest in society, motorized transport was not an option. Those who could afford public transit saw themselves crammed into the 75,000 strong fleet of privately operated minibus services. These shared taxis, called danfos, were known for their high cost, poor safety standards, limited regulation, negligible maintenance, lack of security, and regular violation of traffic laws. To many, they were exploitative; a commuter could pay nine times more to travel between the peak hours of 6:30 a.m. to 8:00 a.m., and then after 9:00a.m.
In response to these issues, Lagos introduced a Bus Rapid Transit (BRT) system for commuters. Facing limited finances, instead of a "gold standard" BRT, the city opted for a BRT "Lite" system that focused on places where infrastructure could be improved cheaply, easily, and quickly. The BRT Lite included partially segregated lanes, simple bus shelters, and on-bus collection of bus fare. Lagos' BRT Lite cost $1.7 million per kilometer, substantially lower than a "full" near gold standard system proposed in Kampala at an estimated cost of $17 million per kilometer. In Dar Es Salaam, Tanzania, the city's first phase of a gold standard BRT system came in at approximately $7 million per kilometer.
The Lagos BRT achieved socio-economic, environmental and public health success, feasibility, as well as cost-effectiveness by starting small in line with the capacity of public and private actors involved. Within the first one hundred days, the BRT led system had carried over 9.7 million passengers. Compared to the danfo led system, accidents were reduced by 30 percent, and two-thousand direct new jobs were created, many upskilling people who had previously been minibus drivers. In addition to a 30 to 50 percent fare reduction, and a 40 percent reduction in commute time, the introduction of the BRT Lite was associated with a 13 percent reduction in CO2 emissions, and greenhouse gas emissions dropped by 20 percent near transportation routes, improving local air quality.
BRT Lite was able to immediately deliver many of the same socioeconomic benefits of higher capital-intensive bus or metro services. What's more, a subsequent expansion and upgrade was possible when the BRT's proven financial results received additional international investment. Today, the system boasts two different lines which cover more than 35.5 kilometers of track and transport more than 350,000 commuters daily.
A fare card system was added in 2013 and in 2021 saw a fare hike, which was unpopular given the economic effects of the ongoing COVID-19 pandemic. For middle-income Lagos residents, the new fares may be affordable, but they pose issues for lower-income commuters. BRT prices remain low for those traveling longer distances, but more expensive for shorter distances. It is believed that these price hikes are linked to inflation of the naira—Nigeria's currency—and the lack of foreign exchange. With the fare increase, proponents argue that financial sustainability must be addressed in order for the BRT to remain operable and affordable.
Room for Improvement
While the BRT is more convenient and standardized compared to informal buses, commuters report there is still much room for improvement. Many BRT buses are now, after a decade of use, in poor condition, lacking air conditioning units and having leaky roofs. There are further reports of buses breaking down and leaving passengers stranded without an alternative means of transport, with poor customer service when such issues arise. Finally, perhaps a consequence of Lagos' rapid growth, bus routes are now inefficiently allocated, leaving passengers in long queues, especially at peak periods. This suggests the need for more user data on which routes will be busiest when.
Lite infrastructure reform also was undertaken on the road network used by the Lagos BRT. Rather than new flyovers (raised roads cutting through cities) or repeated road-widening projects (inducing demand for ever more cars and their associated environmental costs), the government focused instead on removing bottlenecks in the road networks. Simple junction improvements, merge and exit lanes, and most critically, roundabout modifications, were important bus system reforms. Roundabouts lose all of their benefits in high density, high traffic environments. With the targeted removal of six roundabouts—replaced with traffic lights—commuters on one main route to the city saw their 18 kilometer commute time reduced from three hours down to 45 minutes—a 75 percent reduction. Savings seen through reductions in fuel and environmental costs, and lost travel time are estimated at NRN ₦87billion ($240 million).
The BRT's initial quick wins in Lagos allowed the city to make  progress in many areas. Replacing all minibuses with high occupancy vehicles; completing new bus shelters, terminals and depots; granting private concessions to some routes allowing expansion of the city's public transport system; digitizing the network with real time information and upgrading staff skills with training. While there is still room for improvement in pricing and maintenance, Lagos's story of transport reform is one that all growing cities can learn from. The gold standard may not always be the best solution for a city: incremental targeted reform, combined with parallel infrastructure improvements, may prove less burdensome for a city's capacity and finances. As Lagos' case study shows, an affordable public transit system can provide substantial quality-of-life, environmental, and health benefits for a city's people.
Editor's note: This article first appeared on Think Global Health.