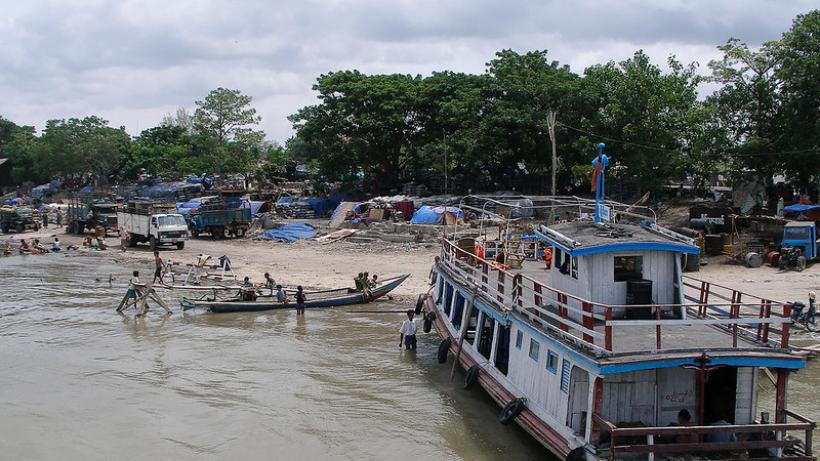 Towards sustainable water provision in Mandalay
The Mandalay City Development Committee (MCDC) is currently making a major loss in running its water system, with a deficit exceeding 50% of their operation and maintenance costs. This is without accounting for the need to expand and upgrade the system, much of which still stems from colonial times. How can policymakers ensure a sustainable future for piped-water supply in Mandalay? A recent International Growth Centre (IGC) Project attempts to understand demand and funding for water supply in the City.
Expanding water infrastructure in Myanmar
Mandalay is Myanmar's second largest city and the capital of the Mandalay Region. The city is governed by the MCDC, which is responsible for the delivery of services and infrastructure. Mandalay's water problems are similar to many other cities in the developing world.
Authorities are confronted by the rising costs of expanding water networks to serve an ever-growing migrant population in their peripheries. At the same time, tariffs are kept low so that everyone can afford piped-water. With low revenues and rising costs, most cities forgo making investments in maintenance and upgrading operations, thereby shortening the life of their capital investments.
In 2015, the MCDC obtained a US$ 104 million loan from a group of multilateral and bilateral donors to extend and improve its water supply network. The loan aimed to improve wastewater and drainage management, and strengthen the capacity to plan, design, and manage services between 2017 and 2023. To pay off large capital expenditures and cover operational expenditures, the water tariff was raised from 55 kyats (US$ 0.04) to 85 kyats (US$ 0.06) per unit, and soon after to 200 kyats (US$ 0.15) per unit (one unit is equivalent to 220 gallons or about 1,000 litres).
Mandalay's revenue generation challenges:
Water source substitution
Due to widespread access to sources of substitution for piped-water in Mandalay, further increases of the tariff rate are expected to reduce piped-water consumption and have a limited impact on the city's revenue. Around 80% of the population in Mandalay have access to two or more water sources, making demand for piped-water particularly sensitive to price variations. The most common sources of water are water bottles (71%) and tube wells (68%), while only 35% of the population is connected to the piped-water system.
A significant impact on operational expenditure is non-revenue water. Non-revenue water is defined as the difference between the volume of water put into a water distribution system and the volume that is billed to customers. In Mandalay, 52% of treated water is lost during transmission. Of this, 70% can be attributed to physical loss (due to leakages or faulty pipes and meters), while 30% is attributed to commercial loss (due to meter reading or data handling errors). Authorised unbilled usage – such as for monasteries and government buildings – also contributes to non-revenue water.
The MCDC aims to progressively connect the entire population in Mandalay to the piped-water network. However, current water tariffs do not even cover the cost of limited water provision in Mandalay. It is therefore critical to reduce the operational expenditure of the current system. This should be done while maximising the usage of new connections by gradually reducing reliance on alternative sources.
Environmental and economic inefficiency
Water lost to breakages, billing errors, and theft represents both environmental costs and economic inefficiency. Reducing non-revenue water can increase cash flow for utilities, which may then expand the supply network without squandering water resources.
Towards sustainable water provision: Increasing revenue
The assessment and reduction of non-revenue water can play a key role towards ensuring sustainable coverage of operation and maintenance costs:
Measuring the water consumed by unbilled authorised users can help the city assess its total production costs and subsidies.
Monitoring accurate meter readings using benchmarks and formalising payment schedules for users unable to afford their bill can help streamline the Water Revenue Department's bi-monthly billing.
Incentivising meter readers and users to report damaged meters, and technician teams to repair broken meters can also reduce non-revenue water. This would significantly reduce unmetered piped-water consumption.
Additionally, gradually switching to reliable automatic meter readers for large users, particularly businesses, and for areas where there is lower substitutability between piped and ground-water could efficiently decrease commercial losses.
Increasing water tariff rates and revenue
In parallel to reducing non-water revenue, raising water revenue is critical to increase the capacity to improve water service coverage and quality in Mandalay:
Metering all businesses and using graduated tariffs for those using large amounts of water can significantly increase water revenue. As Mandalay grows and attracts more businesses, it is critical that their use of all water sources be regulated. Unregulated tube well drilling is likely to lead to groundwater depletion and future water access problems.
Water tariffs are the second largest source of revenue for the MCDC. There is scope to raise household tariff levels up to 385 kyats (US$ 0.25) per unit at current income levels to generate around MMK 720 million (US$ 473,000) additional water revenue, an increase of 27% (Figure 1).
Figure 1: Relationship between tariff rates and revenue

WASH costs
Another dimension in ensuring sustainability of the city's water service resides in the additional costs of WASH (water, sanitation, and hygiene) infrastructure investments, such as the construction of sewage treatment plants and the expansion of the piped-water network. These initiatives will come with additional capital, operating, and debt servicing costs which should be accounted for in the city's budget.
Conclusion: Demand for future research
There is a lot more to water supply in Mandalay than covered here. It is definitely a complex area worthy of research, and a very important one too. The MCDC has expressed explicit interest in further understanding piped-water supply in Mandalay, especially as they are seeking to progressively connect the entire population to the piped-water network. Unquestionably, Mandalay's water supply is an area ideal for analysis and research.
Editor's note: A policy brief from this project can also be found here.