The economic gender gap in the garment sector in Bangladesh and Ghana
An oversupply of female entrepreneurs results in fewer opportunities for women. This is compounded by higher costs of changing jobs for women due to household responsibilities, and promotion rates being significantly lower for females than males.
The gender gap and economic participation
The findings of the World Economic Forum's (WEF) research on closing the gender gap have revealed that gender parity has shifted into reverse this year for the first time since 2006. Indeed, many countries that have made significant progress in advancing gender equality across the four key dimensions: Economic Participation and Opportunity, Educational Attainment, Health and Survival, and Political Empowerment. Accordingly, the overall global gender gap can now be closed in 100 years across the 106 countries analysed in WEF's report, compared to the estimated 83 years in 2016.
One of the most pressing gender gaps continues to be linked to women's access to economic resources and opportunities. Gender imparity in the economic sphere measures factors such as pay equality, seniority and labour force participation. Given the various constraints at the national level, and persistent impediments to empower women economically, the gap will not be closed for another 217 years.
The event
On 14 and 15 December 2017, critical questions were addressed regarding the economic dimension of women's empowerment during the Firms, markets and development conference. The event was organised by The Private Enterprise Development in Low-Income Countries (PEDL) programme and the International Growth Centre (IGC), taking place at the London School of Economics (LSE).
Key questions:
What are the factors that explain the gender wage and profit gap?
Do we fully understand the barriers to the economic empowerment of women in developing countries?
Why do female-owned micro-enterprises earn less than male-owned micro-enterprises?
How does worker mobility influence pay differences and why are male workers more mobile than female workers?
Women workers in the garment sector in Ghana and Bangladesh
Two papers on gender wage and profit gaps were presented at the conference, examining the clothing industry in Ghana and Bangladesh. In both countries, garment making is one of the few sectors where both men and women are represented. Studies show that it has directly benefited vulnerable and marginalised women of the rural population through employment opportunities.
On the other hand, there is extensive occupational segregation and gender discrimination in wage rates in Bangladesh, and women-owned businesses make less profit than male-owned businesses in Ghana.
According to the Global Gender Gap Report 2017, Bangladesh recorded progress across all dimensions of the Economic Opportunity and Participation sub index, including estimated earned income and wage equality for similar work. Ghana, however, has logged negative trends in tackling the gender gap. Women's share in estimated earned income has in fact regressed in almost all Sub-Saharan countries.
The study:
Women's market participation and consumer demand
Over the past few years, there has been a promising rise in the number of micro and small enterprises owned by women in developing countries. Whilst more women are pursuing business opportunities, evidence indicates that the profits made by female owners are smaller than the profits of their male counterparts. Much of this profit gap remains unexplained.
Motivated by the importance of understanding the true barriers to women's economic empowerment, Morgan Hardy and Gisella Kagy investigated the issue. They began with the assumption that crowding in the market contributes to gender pay gap.
The garment industry, retail, beauty and food services are among the sectors that see the highest participation of women. The oversupply of female micro-entrepreneurs in these low-growth sectors results in fewer employment opportunities for women and increased demand scarcity. "Not enough customers" is the most common barrier reported by women. The quantity of orders has therefore been found to drive the profit gap, which persists even within the same industry.
Tackling demand-side constraints
The paper pinpoints the importance of exploring the higher demand-side constraints faced by female-owned firms, rather than exclusively focusing on supply-side constraints, as is previously documented in the literature. Based on their findings, the authors suggest that policies and programmes focused on opening alternative labour market opportunities for women, or increasing access to different customer sources for female-owned firms, may contribute to closing the gender profit inequality.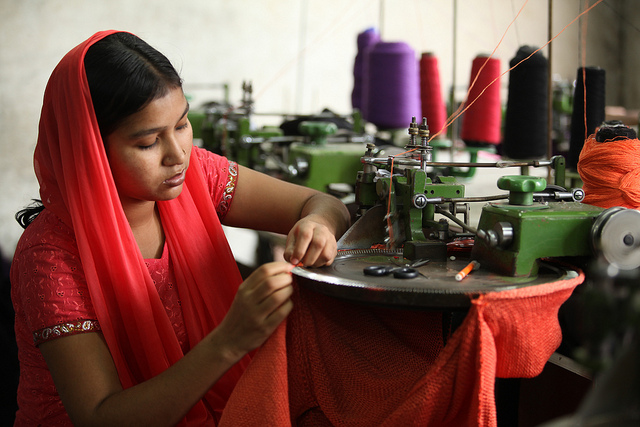 Gender wage gaps and worker mobility among garment workers in Bangladesh
According to World Bank research, approximately 80% of garment workers in Bangladesh are women. However, they are paid less and occupy more junior positions than men. To better understand the wage gaps between male and female workers, Andreas Menzel and Chris Woodruff studied employees in a sample of 44 Bangladeshi garment factories. They found that men are promoted slightly more frequently, and most promotions occur when workers leave one factory for a higher grade somewhere else.
Findings
Considering that men move across factories more often than women, the authors investigated two potential explanations for the reduced mobility of women:
The lack of opportunities for advancement into supervisory positions discourages women from moving across factories, more than the prospect of higher costs of changing jobs on account of managing household responsibilities as well as work.
Only 10% of female workers in Bangladesh's garment sector occupy managerial positions. As this IGC study shows, promotion rates for female trainees are significantly lower (55%) than for male trainees (85%), even though female trainees are equal or more effective managers than their male counterparts.
References
Hardy, M. and Kagy, G. (2017). If she builds it, they won't come: Experimental evidence of demand-side constraints in the gender profit gap. Accessible: http://cepr.org/sites/default/files/Hardy%20%26%20Kagy_%20If
%20she%20Builds%20it%2C%20They%20Won%27t%20Come.pdf
(18 December 2017).
World Bank (2017). In Bangladesh, Empowering and Employing Women in the Garments Sector. Accessible: http://www.worldbank.org/en/news/feature/2017/02/07/in-bangladesh-empowering-and-employing-women-in-the-garments-sector (18 December 2017).
Menzel, A. and Woodruff, C. (2017). Gender Wage Gaps and Worker Mobility: Evidence from the Garment Sector in Bangladesh. Accessible: https://economics.yale.edu/sites/default/files/genderwagegaps_170222cw.pdf (18 December 2017).
World Economic Forum (2017). The Global Gender Gap Report 2017. Accessible: http://www3.weforum.org/docs/WEF_GGGR_2017.pdf (18 December 2017).