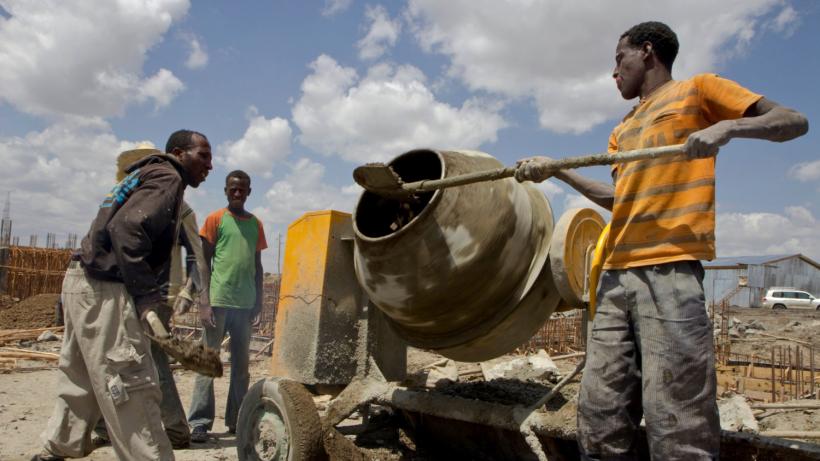 Risky business: Takeaways from the Fragility Commission's 4th evidence session
In fragile environments, experts agree that strengthening the private sector is the key to economic and social progress. However, this is undermined by limited risk appetite and weak state capacity when investing and operating in fragile environments.
LSE-Oxford Commission on State Fragility, Growth and Development
In its fourth evidence session, held at the the London School of Economics (LSE) on 27 September, the LSE-Oxford Commission on State Fragility, Growth and Development and its chair David Cameron, called on six witnesses representing the private sector and international development organisations to present evidence from their experiences operating in fragile environments. The following are key issues discussed at the session.
Overcoming low appetite for risk
All witnesses agreed that one of the biggest obstacles to developing the private sector is the limited risk appetite for investing in fragile environments. This is an especially acute challenge for publicly-funded development finance institutions (DFIs), which often operate under intense government and public scrutiny.
Neil Gregory, Head of Thought Leadership at the International Finance Corporation (IFC), said shareholders' fear of negative news of their investments appearing on the front page of newspapers significantly limits DFIs' ability to take more financial and reputational risks, thereby limiting the funding that can be accessed by firms operating in the most fragile places.
Paddy Docherty, CEO of Phoenix Africa, which owns the largest rice operation in Sierra Leone, said the key for his investment firm is seeing fragile environments as an opportunity, rather than a problem to be solved. He also pointed out that media hype about fragile environments – for example, misleading or overblown coverage of the Ebola epidemic and terrorist incidents – can negatively skew perceptions of risk in African countries.
To address low appetite for risk, Mr Gregory pointed out that businesses in high risk places can adapt by using simpler business models, that are less capital intensive, involving shorter value chains. Additionally, organisations such as the World Bank's Multilateral Investment Guarantee Agency (MIGA) can provide political risk insurance guaran​tees to private sector investors and lenders in fragile environments. Merli Baroudi, Director of Economics and Sustainability at MIGA, said the agency's biggest problem, however, is the lack of bankable projects in these locations.
Rethinking development finance institutions
The witnesses, including those who lead investment firms and those who lead or have lead DFIs, all pointed to the need to broaden the mandates and increase the flexibility of DFIs, allowing them to make riskier investments and work within longer timelines. What is needed, said Mr Docherty, is for DFIs to have the ability to operate more like venture capital firms.
To change the mandates of DFIs, however, would require a major shift in organisational mindset, with far more tolerance for projects failing, said Diana Noble, former CEO of CDC Group, the UK's largest DFI. Given the increasing public pressure on DFIs, and the low likelihood of big mandate shifts in the short-term, a new mechanism, established within an existing or new institution, could potentially fill the gap in providing capital and skills training for entrepreneurs in higher risk environments, she added. The IFC, for example, has set up a programme called SME Ventures which recruits fund managers to run venture capital firms in 13 fragile and conflict-affected countries, with plans for expansion, according to Mr Gregory.
 A power station in Port-au-Prince, Haiti, supported by the IFC. Photo credit: Flickr | World Bank
Filling the state capacity gap
Ineffective state capacity, discussed throughout the Commission's evidence sessions, remains the crux of the challenge in developing the private sector in fragile environments. Hisham El-Khazindar, Managing Director of Qalaa Holdings, which developed Egypt's largest oil refinery, pointed to the lack of government capacity as a major impediment to many of their investments in North and East Africa. Civil servants in Egypt during the political instability of 2011-13, for example, had effectively no ability to make decisions to keep businesses running smoothly, such as signing off on business permits. Innovative solutions are needed to enable the government to better respond and partner with private sector – these could be in the form of training programmes, fellowships, or consulting support for civil servants, he said.
James Mwangi, CEO of the Equity Group Holdings Plc, which operates in six African countries including the Democratic Republic of Congo and South Sudan, said public-private partnerships are key to working around limited state capacity. He mentioned regional actors such as the East African Community and African Union, as being particularly helpful mediators between government officials and the private sector.
Development agencies such as the UK Department for International Development (DFID) and the US Agency for International Development (USAID) can also be important players in supporting supply and value chains and providing investment guarantees. For fragile countries with a stable neighbouring country such as Kenya, building on existing trade links can be very effective for businesses, he said.
There is also a role for developed country governments to reconsider sanctions and regulations that prevent firms from operating in fragile places. For example, Mr Mwangi said, his firm has been interested in investing in Somalia but the penalties for doing so would outweigh any business benefits.
Going forward
Ultimately, the private sector, DFIs, and other international actors should be working towards reducing the risk of state failure, said Sir Paul Collier, Academic Co-Director of the Commission. A strong argument for the private sector being key to stabilising fragile environments should be made to the public, and could potentially sway decision-makers to make it easier for firms to invest in these countries.
Promoting private sector development is one of five key dimensions of fragility that the commission is examining as part of its work to form policy recommendations for national and international actors to better support economic growth in countries facing fragility and conflict. The fifth evidence session on building resilience took place on 28 September 2017.
You can watch Minouche Shafik, Director of LSE, discuss the importance of a healthy private sector in the recovery of fragile economies here.