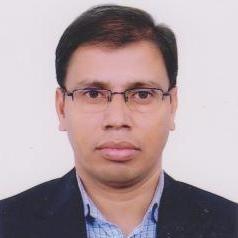 Jashim Uddin Ahmed
Professor
North South University
Prof. Jashim Uddin Ahmed started his professional career as an Assistant Professor in the School of Business at North South University, Bangladesh back in 2004 after finishing his Ph.D. from UMIST, UK. During his 11 years of teaching at NSU he served in various capacities. Dr. Ahmed is former Chairman of the Department of Management, School of Business & Economics, North South University. In addition, he is the former Director of BBA Program, North South University. Prior to this, he worked in the same university as the Associate Director of the BBA Program from 2007 to 2008.
He has been awarded his Ph.D. in Management Sciences from The University of Manchester Institute of Science and Technology (UMIST, currently known as The University of Manchester), UK and he has achieved master degrees both in Marketing and Management from the University of Northumbria, UK (accredicated by AACSB). He also studied in the University of Reading (accredicated by AMBA, EQUIS, AACSB) and the University of Lincolnshire and Humberside, UK.
Dr. Ahmed is actively involved in research in his field. His research interests are in the area of Intellectual Capital, Higher Education, Strategic Management, and Contemporary issues in Marketing and Management. He is a prolific writer who publishes regularly in renowned international journals. He has published more than 65 research articles and business cases in reputed journals, including the IIMS Journal of Management Science (Indian Institute of Management), Vision - The Journal of Business Perspective (Sage Publications), South Asian Journal of Business and Management Cases (Sage Publications), Delhi Business Review (India), Asian Profile (Canada), Sri Lankan Journal of Management (Sri Lanka), Management & Change (India), Higher Education for the Future (Sage Publications), Research in Education (Sage Publications/Manchester University Press), Decision (Springer), Business Perspectives and Research (Sage Publications), SAGE Business Cases (Sage Publications), Global Business Review (Sage Publications), International Journal of Financial Innovation in Banking, (Inderscience), International Journal of Consumer Studies (John Wiley & Sons), and Asian Case Research Journal (National University of Singapore/World Scientific Publishing).