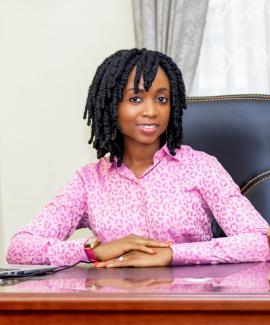 Yakama Manty Jones
Director, Research and delivery
Ministry of Finance Sierra Leone
Dr. Yakama Manty Jones (Nee Mara) is an Economist and prolific researcher with over thirteen years of progressing professional experience serving in both public and private sectors. She currently serves as Director of Research and Delivery in Sierra Leone's Ministry of Finance, leading the generation of evidence to inform and enable evidence-based strategic policy design and implementation.
She is highly skilled in economic research and advisory, data analysis, public financial management, project management, digital transformation, and capacity building. Dr. Jones demonstrates a deep understanding of the catalytic impact of systems approaches to public service delivery on development outcomes. In her line of work, she also provides thought-leadership, design-advisory and coordination support to national, regional and global human capital development strategies whilst leveraging data, innovation and technology.
As an entrepreneur, Yakama invests in the domestic economy, creating opportunities for women's economic empowerment, and bringing private sector experiences to enhance policy and decision-making spaces. Dr. Jones invests in communities through board roles, mentorship programmes and the Yak Jones Foundation focused on improving literacy in Sierra Leone.
Dr. Jones holds a BSc. (Hons) in Economics , MSc. Finance and Economics, MRes. International Business and Economic Development , PhD Finance and Economics, a Certificate in Social Entrepreneurship from the University of Oxford and an Executive Certificate in Economic Development from the Harvard Kennedy School. Her research interests lie in Development Economics, International Business, Human Capital Development, Growth Dynamics, Innovation, and Systems Approaches to Public Service Delivery.