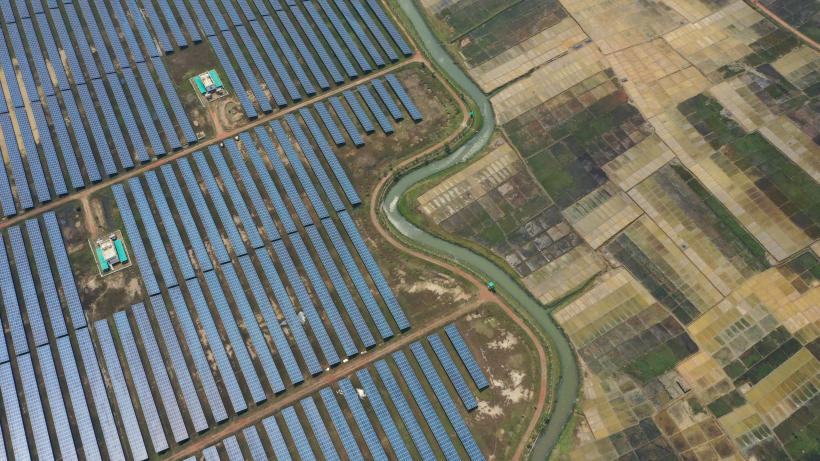 Resilient and resurgent Bangladesh: Sustaining economic growth in a changing climate
Bangladesh has made impressive leaps in its human development and economic growth, and is now set to become a middle-income country by 2026. This publication showcases some of the insights and impact of IGC's work in the country and how we are gearing up for the future.
Bangladesh's inspiring growth story is well-established. Since the 2000s, per capita GDP has grown by more than two-and-a-half-fold. Poverty has reduced by two-thirds. Access to electricity has jumped to 99% from a meagre 32%. These achievements have been underpinned by tremendous growth in agriculture and exports. Value of agricultural output grew from US$ 24 billion in 2000 to almost double in 2019 at US$ 45 billion. Today, the value of exports stands at US$ 45 billion from less than US$ 7 billion in 2000. Bangladesh is now set to graduate from Least Developed Countries (LDCs) status in 2026. This is a testament to improvements in income, human assets, and reductions in economic vulnerability.
Bangladeshi people have led this growth. Three main actors are behind this remarkable transformation.
Farmers and agriculturalists

. It is their hard work which feeds this densely populated country. Alongside crop farming, massive improvements in poultry and fisheries in recent years have been pivotal.

Diaspora around the world.

There are around

12 million Bangladeshi migrant workers

all over the world. Last year, they sent US$ 21.5 billion to the country. Remittance provides Bangladesh with a continuous flow of foreign exchange which is dearly needed for this import-dependent economy.

Workers in the ready-made garment sector

. Entrepreneurs in Bangladesh have built a globally competitive ready-made garments industry on the back of extremely dedicated, low-wage workers. This sector accounts for more than 80% of Bangladesh's export earnings, and the fate of the economy is intertwined with it, at least for the foreseeable future.
No growth story comes without its challenges. Inclusivity is the most important aspect of growth. It ensures even the most vulnerable populations have a chance at improving their circumstances. Bangladesh's growth has greatly reduced poverty, but all segments of its population have yet to realise the benefits of growth. Poverty has persisted, and there is a distinct lack of entrepreneurial skills among Bangladesh's growing middle class. Foreign exchange reserves depleted quickly between August 2021 and January 2023, before stabilising in the middle of the year. External debt is at a relatively comfortable position, but economic activities have to shore up to generate returns on massive investments in rapid infrastructural development.  
Bangladesh is entering a new phase in its development journey. The economy has shown resilience in the face of past shocks such as COVID-19 and used its abundantly available low-wage labour relatively well. But to thrive as a middle-income country that is confronted by climate change and an increasingly unstable geo-political climate, the country must utilise its fast-depleting demographic dividend by investing in human capital and ensuring good governance. This is imperative for Bangladesh to attract investment, generate value for its citizens, and reach the goal of Smart Bangladesh.
Over 10 years of IGC in Bangladesh
IGC's journey in Bangladesh began in 2009. In these years, Bangladesh has transformed its economy by increasing connectivity, raising productivity, and reducing vulnerability. The IGC has collaborated with the Bangladesh government throughout this journey by providing crucial evidence on policy issues. IGC researchers have worked on various topics including the efficacy of large infrastructure, ways to protect the vulnerable by expanding safety net and school feeding, and behavioural change to mitigate energy costs for the state.  
We are grateful to have excellent partners and friends in Bangladesh. The IGC is proud to have worked with the Planning Commission in contributing to the eighth five-year plan. We are currently working with the Ministry of Power, Energy and Mineral Resources, Bangladesh Investment Development Authority, and Local Government Division, among others to develop research and provide evidence-based policy insights. Based at the BRAC Institute of Governance and Development (BIGD), IGC has also partnered with BRAC in research on the effectiveness of its ultra-poor programmes. More recently, we have also collaborated with Policy Exchange, CPD, PRI, and RAPID to respond quickly to on-the-ground changes and conduct informed outreach to relevant policymakers. 
We are now concluding our work for the FCDO-funded Transformative Economic Policy Programme (TEPP). Under TEPP, we have focused on the issue of workplace environment and job quality, specifically in the ready-made garment (RMG) industry. We have also worked on domestic resource mobilisation through direct taxation, sustainable urbanisation, innovations in electrification, and other related green growth issues.
As Bangladesh moves towards its vision of Smart Bangladesh, the IGC intends to continue and deepen our engagement with the government in supporting this vision. In recent years, we have prioritised research on solid waste management, alternative modes of renewable energy, air pollution in urban areas, transportation, and others relevant to Bangladesh's next step in its development journey. Evidence-based policymaking is imperative to maximising potential and reducing mistakes. At IGC, we are committed to generating evidence on economic development and sustainable policy issues for Bangladesh and engaging with the government so that the findings from research can be effectively implemented and translated into real change for Bangladeshi people.
This leaflet showcases some of the insights and impact of our previous work, and how we are gearing up for the future.